Entry posted by WRENCH ·
3,533 views
After a pleasant night under canvas, the day is decidedly dreich. Overcast and rain. Today's journey is to the nearest town via the Gask Ridge and an old drovers track. From above Auchterarder to Perth.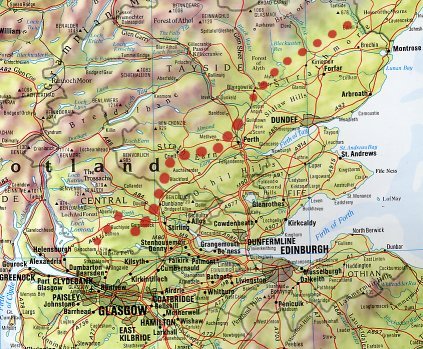 The Ridge is around ten miles long, and was fortified around ten years before Hadrian's Wall was built, and is believed to be Rome's earliest fortified frontier. There was a system of towers strategically placed along its length, the foundations are still clear to see.
The road connecting them now forms part of the modern local road system.
Onto the drovers track.
Anyone who's into woodwork and burrs?
Altogether a round trip of about 22 miles, and even in the pouring rain, enjoyable. I'm not using any high tech clothing. Oiled sailcloth cape and wool layers on top, wool still retains its thermal qualities when wet. For the better weather, a ventile shirt does fine. Next time I'm going to use my Kelly Kettle. The wood gas stove is too slow.
More to follow.